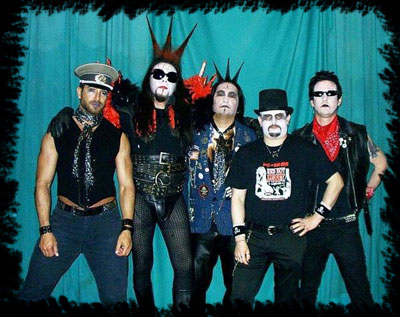 Rebel Rebel's debut release "Lifestyles Of The Sick and Famous" now available for the first time as a digital release on CD Baby and Itunes!! Follow the links from the merchandise section. Coming soon also for the first time as a digital release will be the "Bible of the 21st" Century" release produced by the wonderful veteran producer Jon Mathias (RIP).
The band recently performed at the world famous Whiskey A Go Go in Hollywood, Ca. and recorded the show to video and audio for use in the upcoming documentary and for a Live from the Whiskey CD/digital release. It's always a pleasure to play one of the best and historical venues in your home town! So watch for those new projects to be completed in the near future.
Get the Los Angeles Death Dolls Itunes single "Wake Up" @ http://itunes.apple.com/us/artist/los-angeles-death-dolls/id410401956 and see the LA Death Dolls YouTube Channel @ http://www.youtube.com/user/laddpunktv
Watch for the Los Angeles Death Dolls on un upcoming Alice Cooper inspired tribute cd via Versailles Records.
See what is going on in Los Angeles and on Teddy's travels via his Down To Rock (DTR) column at www.veglam.com find out the latest on the Glam/Punk scene in L.A. and worldwide.
Rebel Rebel are still not officially on Facebook!! - find us on Twitter @rebelrebelpunk and at www.ftwrecords.com.